PRODUCT DESCRIPTION
Bone & joint pain has been an serious bone discomfort symptom, people such as students who likes Carbonated soft drinking, work-group with heavy density and pressure even the elderly lack of exercise, cartilage nurishment loss and bone calcification Degradation, all need cartilage and nurishment supplement in time, maybe daily or regularly.
Sino-Sci Bone Care supports healthy bones and joints while reducing the risk of arthritis and long-term degenerative bone and joint disease with Sino-Sci golden natural formula of 4 natural herbal ingredients.*

WHAT DO SINO-SCI BONE CARE DO?
As we know, bone & joint has closely affected people daily work, exercise even life. It is easy to find bone care products, but it is not easy to find it'll actually work. The main reasons for it is difficult to ease bone & joint pain, is single ingredient and material quality and origin. That's to say single ingredient leading single function, while not-good material leading not-obvious efficacy.
Sino-Sci has created innovation golden natural formula especially for these 2 aspects after conducting big data research. Sino-Sci Bone Care is made of 100% natural finest quality foods and vegetables extracts, such as Glucosamine, Purslane, Acerola Cherry, Shark Cartilage and Hyaluronic Acid. Together with these 4 ingredients combination working, serious effects on anti-inflammation, lubricating the joints, keep and repair cartilage tissue and help maintain multivitamin optimizaton.
HOW TO SUPPORT BONE HEALTH WITH SINO-SCI BONE CARE?

Suitable For*
People who suffer from permanent joint pain, overweight, intense manual labor or care for their cartilage health
Suggestion*
400mg/cap * 72 counts/bottle
Dosage*
Daily Care: 1-2 caps per time, once a day
Fast Relief: 2 caps per time, 2 times a day
Deep Repair: 3 caps per time, 2 times a day
(Or consult your doctor before taking it. Prefer to take it before meal with warm water)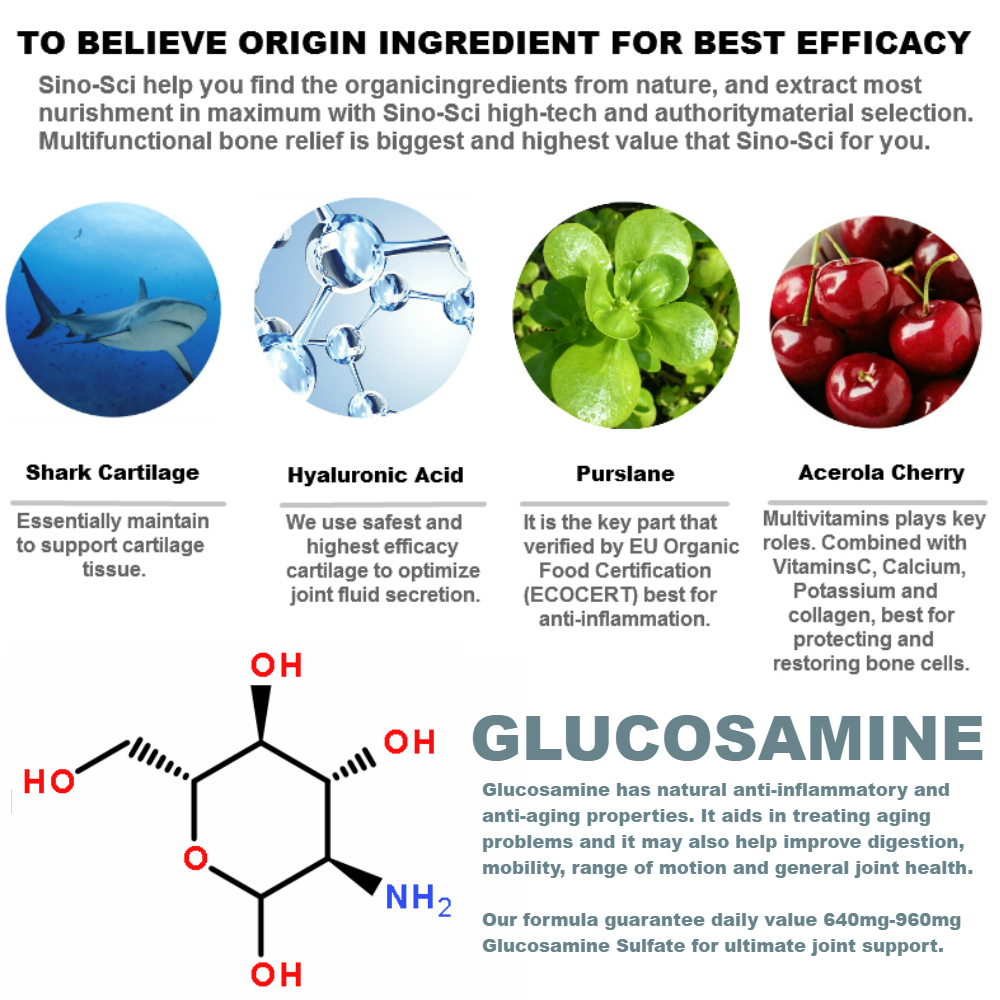 Serving Size 2 capsules                           

Amount Per Serving          %Daily Value
Natural Food Extracts Complex 800mg*
Glucosamine sulfate         40%*
Shark cartilage                  10%*
Hyaluronic acid                 10%*
Purslane                             20%*
Acerola                               20%*             
* Daily Value Not Established                 
These Statements have not been evaluated by the FDA. This product is not intended to diagnose, treat, cure or prevent any disease.